Jurnal Laboratorium Khatulistiwa (JLK) (ISSN: 2597-9523 (Print) and ISSN: 2597-9531 (Online) is a peer-reviewed open access scientific journal published by Department of Medical Laboratory Technology, Poltekkes Kemenkes Pontianak. This Journal particularly focuses on the main problems in the development of the sciences of medical laboratory Technology. It covers the parasitology, bacteriology, virology, hematology, clinical chemistry, toxicology, food and drink chemistry, and any sciences that cover sciences of medical laboratory area. Each volume of Jurnal Laboratorium Khatulistiwa (JLK) is counted in each calendar year that consists of 2 issues.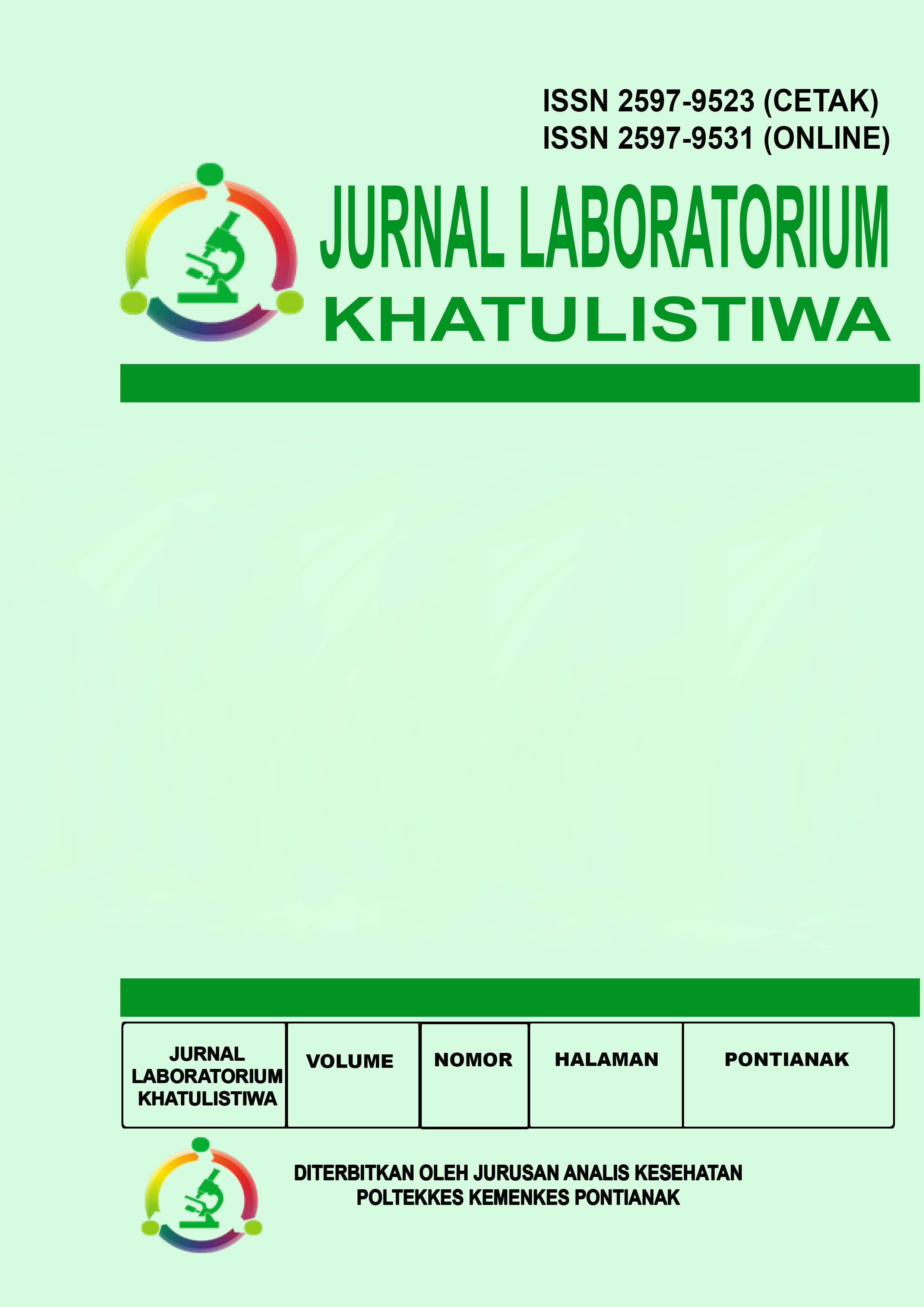 Announcements
CLOSE SUBMISSION

Dear Authors,
Thank you for your submission.
The manuscript submission has been closed temporarily.

Submissions for 2023 have been closed since October.
If you submit it in December 2023 onwards, the manuscript will be on the waiting list for 2024.

Feedback on your manuscript will be provided starting in January 2024.
Please be patient about the next information.

Regards,
Editorial Team
Posted: 2023-11-12
More...
Vol 7, No 1 (2023): NOVEMBER 2023
Table of Contents
Articles
Herlinda Djohan Dj, Herlinda Djohan Dj , Gervacia Jenny Ratnawati, Gervacia Jenny Ratnawati , Sugito Sugito, Sugito Sugito , Immaculata D.M.T Immaculata D.M.T

Abstract views:

15 PDF views: 4

49-57
Nina Difla Muflikhah, Nina Difla Muflikhah , Fatia Rizki Nuraini, Fatia Rizki Nuraini , Etri Sukma Anggita Etri Sukma Anggita

Abstract views:

15 PDF views: 8

58-63
Slamet Slamet, Slamet Slamet , Hendra Budi Sungkawa, Hendra Budi Sungkawa , Khafifah Dea Sari Khafifah Dea Sari

Abstract views:

21 PDF views: 0

64-69
Etiek Nurhayati, Etiek Nurhayati , Laila Kamilla, Laila Kamilla , cik Verra Budi Lestari cik Verra Budi Lestari

Abstract views:

15 PDF views: 3

70-77
Sutriswanto Sutriswanto, Sutriswanto Sutriswanto , Fifi Kurniawati, Fifi Kurniawati , Endah Sulistiyowati, Endah Sulistiyowati , Syopingi Syopingi Syopingi Syopingi

Abstract views:

29 PDF views: 6

78-84
Maulidiyah Salim, Maulidiyah Salim , Oksa Gestiwana, Oksa Gestiwana , Laila Kamilla Laila Kamilla

Abstract views:

17 PDF views: 2

85-96
Linda Triana, Linda Triana , Wahdaniah Wahdaniah, Wahdaniah Wahdaniah , Emilda Sari Emilda Sari

Abstract views:

7 PDF views: 2

97-101
Wahdaniah Wahdaniah, Wahdaniah Wahdaniah , Aulia Sabrina Azani, Aulia Sabrina Azani , Laila Kamilla Laila Kamilla

Abstract views:

13 PDF views: 4

102-106